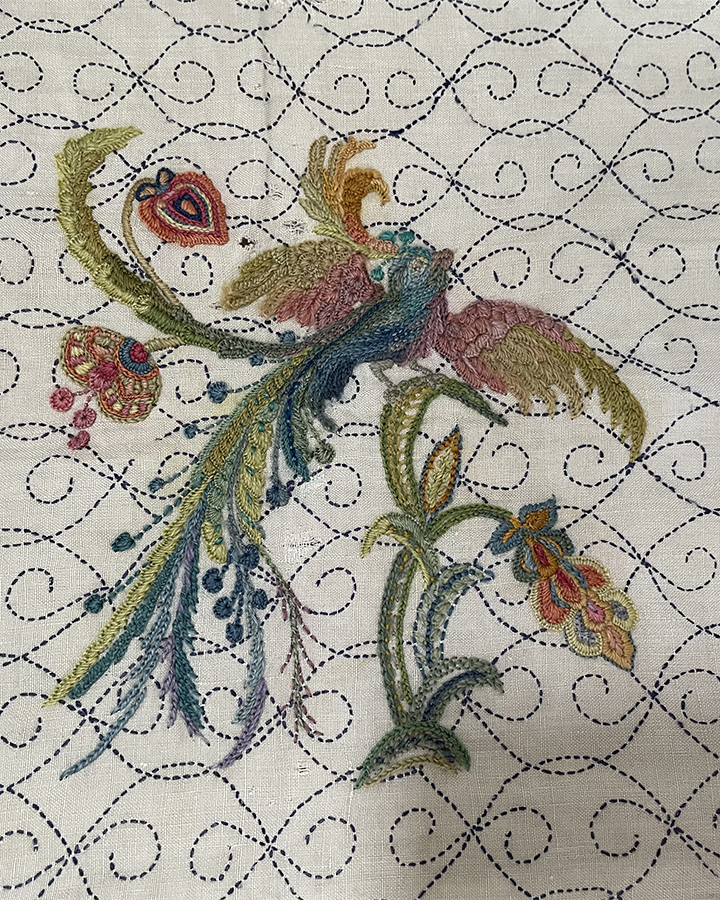 Crewelwork Bedcover
1930
Really lovely and useable. There is a label on the reverse of the bedcover: Made for Rosemary Kennedy Aspin, in the year 1930 by Nancy Gosling, Edith Freeman and Mary Swan, In Westerham, Kent.
Rosemary Kennedy Aspin (1917 - 2009) was one of eight Scottish ladies who worked at Bletchley Park once the top-secret home of the World War Two codebreakers. Why the coverlet and sham were embroidered for her is a mystery. She did not get married and it is not known whether she lived in Kent, where the three ladies embroidered the bedcover and sham. Westerham is near Chartwell - home of the Churchills. In 1930 she would have been 21. We shall never know why this lovely piece was embroidered for her. Was she due to marry and something happened......
The linen is of an excellent heavy quality and the workmanship, presumably by amateur ladies, is excellent. The colours are well chosen, bright and attractive, as is the subject matter. I love the blue embroidered background.


Cataloguing
Coverlet: The heavy natural linen ground embroidered in worsted wools, the central band with three birds on flowering trees, above and below with similar flower motifs using a great variety of flowers, designs and stitches, twenty five motifs in all, embroidered in colourful wools, the background stitched in blue silk with an entwined scrolling design, a drawnwork edging worked in indigo and ivory , the border of double thickness linen., the corners mitred.
7ft x 5ft 3 in; 2.12 x 1.6 m
Condition
Coverlet: Top row: There is a very small hole on the top centre motif. The second motif from the right has a minute red colour run.
Row 2 - First two motifs again have the slightest red colour run.
Row 3 - Central row: Three small holes to the central peacock's head area. The right hand motif has a very small light brown stain 1 cm diameter near the peacock's tail.
Row 4 & 5 - Fine
Row 6 - Under the central bird there is a little darned area, approximately 2 in; 5 cm square.It hardly notices.
A little the background blue silk lines have worn, here and there, but nothing noticeable.
Ask for photos.
Price: on request