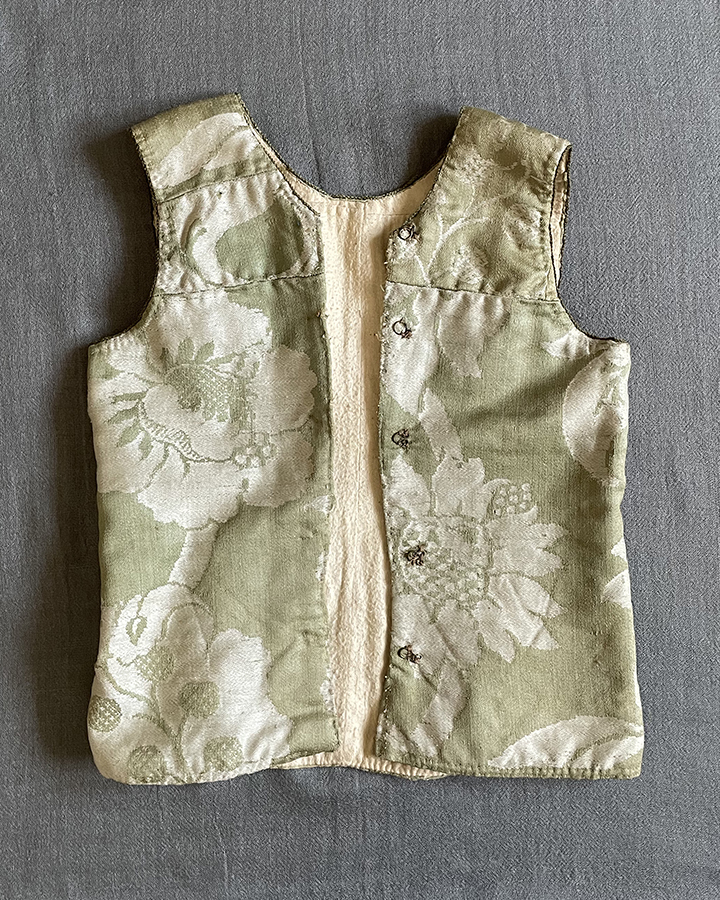 Norwich Hemdrok/Waistcoat
Fabric 1730s
This is quite a country made piece. Some precious Norwich worsted damask fabric was re-used to make a young man's waistcoat, probably in the early 19th century. Unusual and lovely shade of green.
Cataloguing
A waistcoat or hemdrok with round neck and straight hem, made from pieces of Norwich wool damask in pale celadon green, with huge flowes and leaves, the neck and arms edged with fine corded silk, large brass hooks and eyes clumsily attached to the front, lined with knapped cotton.
Length 19 in; 49 cm
Underarm 30 in; 77 cm.
Condition
The back has some fading, but the pieces were faded before it was made up into the waistcoat.
Comments
https://www.zuiderzeecollectie.nl/object/collect/Zuiderzee_museum-3134
Aangekleed gaat uit streekkleding en cultuur in Noord Holland ( regional clothing and culture in North Holland )p 37
Price: £450 | $560 | €520
Ref N°: 1200