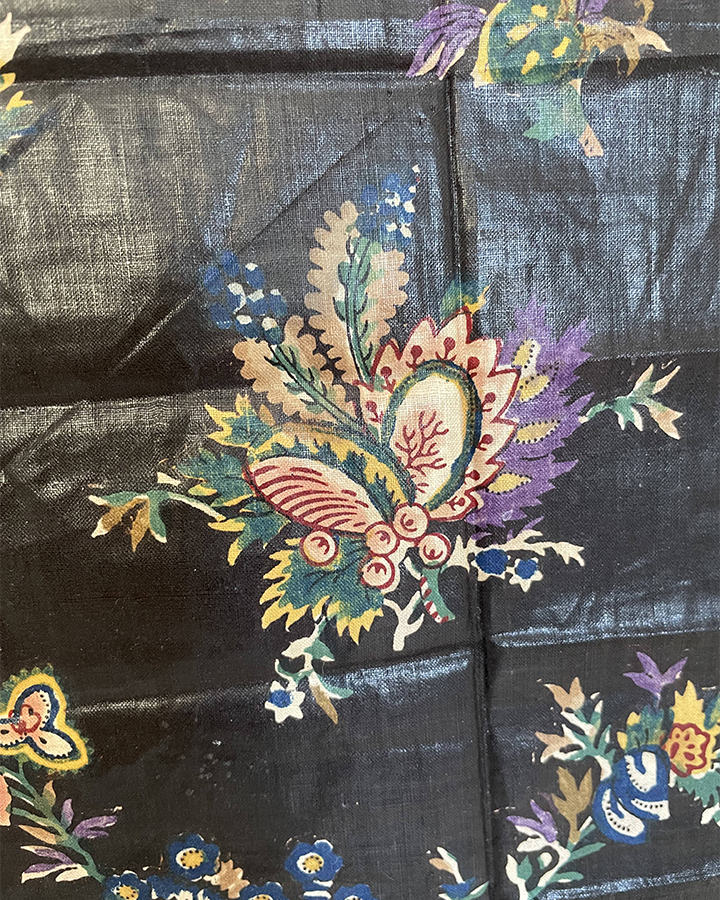 Ramoneur Prints
1780s
This rare fabric is French from Alsace region called ramoneur (chimney sweep) meaning a dark background. Known in the Netherlands as nacht grond sits (night background chintz) hand block printed with groups of naturalistic flowers and exotic motifs inspired by Indian chintz and chinoiserie. They were Imported in vast quantities at the end of the 18 th and early 19 th century. The once thriving early Dutch textile printing industry had fallen into decline by the mid 18th century due to cheaper imported printed textiles. At this period Napololeon had invaded the Netherlands and limited import goods solely from France.
These early fashionable fabrics eventually became treasured by the Dutch rural communities and became part of their regional dress like the Indian chintz and woven check fabrics from the Dutch East India Company. The second hand market saw worn items of such textiles recycled into smaller items of regional dress such as bonnets, partlets/yokes and skirt and apron tops, where this decorative fabric could be gathered tightly into a waistband. Their dark background was suitable for mourning dress. These pieces were pinned to a woman's front bodice, an ornamental rectangle or plastron.
The green was achieved by painting (pencilling) yellow dye over blue. Green dyes at this period were fugitive. The fabric was glazed to repel dust.
Cataloguing
Each piece is hand block printed with attractive colours with sprays of flowers, on a dark brown magnesium ground, the green achieved by pencilling, highly glazed.
a - SOLD
b - SOLD
c - blue, green, yellow, buff, purple, pink and red on dark brown ground, glazed. 12 1/2 x 9 1/2 in; 32 x 24 cm - £ 95
d -SOLD
Condition
Excellent condition.
Price: on request
Ref N°: 1212