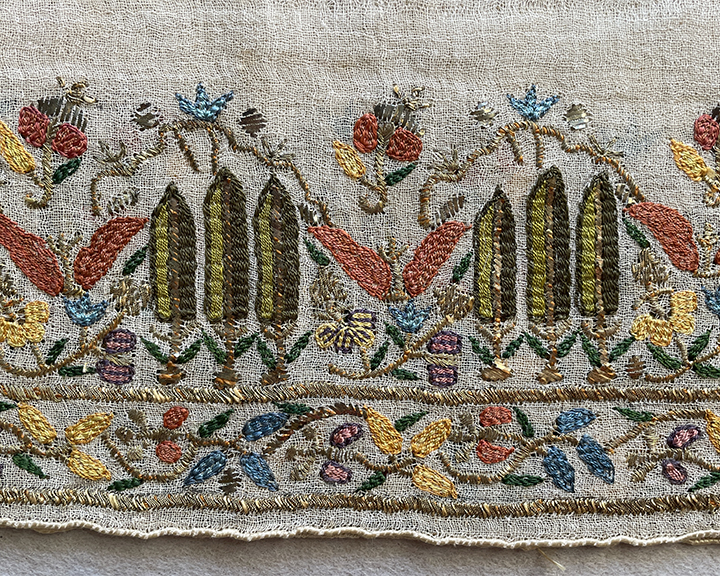 SOLD
Turkish Towel - Yaglik
19th c
Very attractive. This would look good on a table, chest of drawers. Reversible embroidery.
Guests in Turkey would be offered water to wash their hands and yagliks to wipe them. When everyone sat cross legged at low tables, yagliks were also used to cover their laps from spills. They were also used to wrap items such as an important letter, sum of money, present, jewellery, gift of fruits or sweets, an article of clothing - all wrapped in an embroidered yaglik or bocha (square cloth). The richer the wrapping the greater the compliment.* In wealthy households, as soon as a girl was old enough she would learn embroidery and start preparing for her trousseau and her home furnishings.
Cataloguing
Each end with hand embroidered borders of five groups of three cypress trees between stylised flowers and leaves, the lower border with a leaf and flower meander, in shades of mid and lighter olive green, terracotta, pale blue, pink, mauve and yellow silks and with touches of flat beaten gold and gold wrapped silk, all on a hand woven natural coloured linen, a retailers? linen producers? mark in the field, one end stamped 5.50.
34 x 16 in; 87 x 40 cm.
Condition
Very very good. There is of course the inked mark to the centre field 3 x 3.5 cm.
Comments
*Flowers of Silk and Gold. Sumru Belger Krody.
Turkish Embroidery Pauline Johnstone.