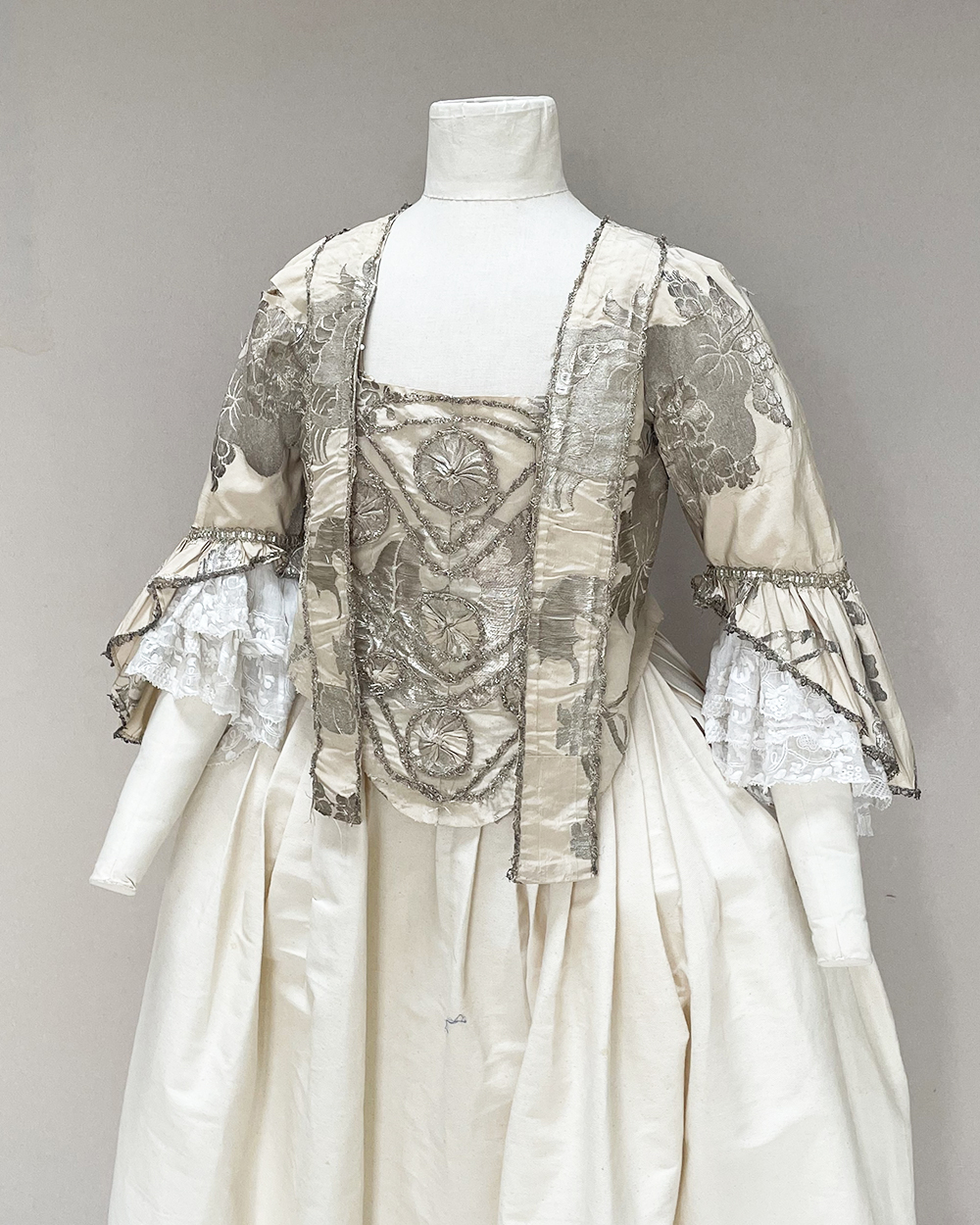 SOLD
Anna Maria Garthwaite
1742/1770s?
The bodice and stomacher look stunning modelled together. As so often happened with fine and very expensive fabrics in the 18th century the gowns were later altered. This is the best quality Spitalfields silk brocade I have handled. I would like to sell the stomacher with the bodice.
Exceptional and rare silk brocade unpicked from a mantua (not by me) almost certainly designed by Spitalfields most famous woman silk designer Anna Maria Garthwaite. Because we cannot find an exact copy of the design of the silk, the academics will not say it was definately designed by Anna Maria Garthwaite, just almost certainly designed by her. This is so often the case with textiles when the original designs cannot be found. The design is very similar to a design of an existing silver and blue silk brocade in the V & A collection, which we have illustrateed.* Our silver and silk fabric is sumptous and would have been extremely expensive to weave and purchase. The surface texture of the flat silver-gilt beside a densely crinkled frisé and a filé is very effective. Imagine the impact it would have made when worn at a candlelight ball. Natalie Rothstein* talks about "quirks of style" in Anna Maria Garthwaite's designs, such as folded-over leaves, which you can see here with the acanthus leaves. One of the fruits depicted is the Buddhist citroen hand, a symbol of happiness, good fortune and longevity and is often offered in Buddhist temples. The fruit is very fragrant and used in China and Japan to perfume garments and rooms. Clearly Anna Maria must have observed these on the popular Chinese export textiles of the period.
Brocading allowed precious silver thread to be woven only on the surface of the silk, and not wasted on the reverse.
Mantuas were generally made from very expensive fabrics for special occasions at court. The width of the panniers indicated the social status of the wearer. They were relatively unstructured in shape with the expensive fabric draped and pinned on the body, thus displaying the exotic fabric.
It is not known who wore the gown and is part of a dress collection recently found in a house which was built in 1550. Full provenance available.
Anna Maria Garthwaite (1690-1763) established her trade at 2 Princelet (formerly Princes) Street, Spitalfieds, lived and worked there from 1730 (aged 40) until her death in 1763. There is very little known about Anna Maria. The information below comes from Natalie Rothstein's book.* Anna Maria was the daughter of the Rev Ephraim Garthwaite of Grantham, Lincolnshire and his wife Rejoyce Hansted. She lived with her family until her father died when she was 36. Parson's daughers and wives had no income or home when their fathers died and Anna Maria moved into the house of her sister Mary and clergyman husband in Yorkshire . What is so astonishing is that AM had no training as a designer, and despite considerable research by Natalie Rothstein, it is not known how she learned to draw so competently, nor where she learned the technical skills to design for a drawloom. Perhaps she was naturally gifted at drawing and was quick to learn the techniques for making the drawing suitable for the weaver. Presumably she needed to make a living to support herself and probably her sister, whose husband had died. Anna Maria and her sister moved to London around 1729, when she was 40, and lived in Spitaflields until her death. As a freelance designer she produced eighty designs a year, almost entirely for dress silks. Her nephew Vincent Bacon was an apothecary and surgeon with a practice in Spitalfields. He was also a naturalist and with their shared interests must have discussed and looked at drawings and specimens, which Anna Maria would have copied and been influenced by. Both the Garthwaite's and the Bacon's had strong clerical affiliations, but also mercers and other tradesman in their families. Botanical styles became fashionable in the 1740s, and Anna Maria's choice of unusual flowers suggest she may have known Peter and James Collinson. They were merchants trading with America, particularly in textiles, but had an important garden in Mill Hill which Anna Maria probably visited for inspiration.
Cataloguing
The finely ribbed ivory silk tafetta ground brocaded and woven with a huge design of fruits and flowers, including a Buddhist citroen hand. Two effects are produced with the silver-gilt, which has been spun round a ivory silk core. The first effect is of flat strips side by side contrasting with a densely crinkled effect frisé, the selvedges with three green stripes.
Silk width: 21 in ; 54 cm wide selvedge to selvedge. Repeat: 22 in; 56 cm
The large fruit 6 and 7 in; 16 and 18 cm high.
Stomacher 10 1/2 in; 27 cm wide. 13 in; 33 cm drop.
Condition
Bodice. This has clearly been adapted for a later dress, because you will see the photo of the original unpicked bodice back, separately catalogued. All the pieces have been looked at by two specialists who feel it is right for a slightly later bodice.The lining is 18th century and appears to be the original cut and construction, so it appears to be correct. The sleeves are right, but that lovely wider silver braid on the bottom of the sleeve has been added later. The neck band was probably from the front of the gown. The narrow silver braid is original.
The stomacher is in very good condition. A little fraying of the silver at the edges, which you should be able to see in the photos. The latest thinking by two specialists who visited me, is that the rosettes and silver braid are original. The thread has a S twist which means this piece was sewn before 1800.
Comments
*For similar large silver design on silk: Silk Designs of the Eighteenth Century. Natalie Rothstein p 156/7 nos 154/5.
https://collections.vam.ac.uk/item/O15327/dress-fabric-garthwaite-anna-maria. This example designed by Anna Maria Garthwaite, is a silk tabby brocaded in silver thread.
V & A file on Anna Maria Garthwaite 5976.2.
www.kci.or.jp/en/archives/digital_archives/1700s_1750s/KCI_007
Patterns of Fashion 1 Janet Arnold. New edition revised and compiled by: Melanie Braun, Luca Costigliolo, Sébastien Passot, Claire Thonrton & Jenny Tiramani.